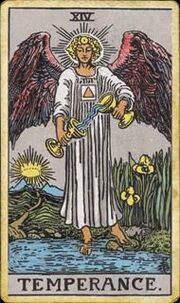 Temperance (XIV) is the fourteenth Major Arcana card in the Tarot decks. Calanthe is the current Temperance Arcana.
Collectress of Sins
Sin
Collectress of Evils
Androgynous robed figure standing on a pedestal, pouring water from one chalice to another; the sun and a bolt of lightning glow in the background.
"Crush you with the Weight of Sins"
Sin detection
Pathokinesis (emotion manipulation)
Her Weight of Sins power can magnify another's guilt and horror over past deeds
Is immune to the Empress's poisons
Enhanced senses, healing
Throwing and precise aiming
Unique CharacteristicsEdit
When she utilizes her power, a haze erupts around her and ripples of energy seem to flow from her, bombarding her target.
Ad blocker interference detected!
Wikia is a free-to-use site that makes money from advertising. We have a modified experience for viewers using ad blockers

Wikia is not accessible if you've made further modifications. Remove the custom ad blocker rule(s) and the page will load as expected.