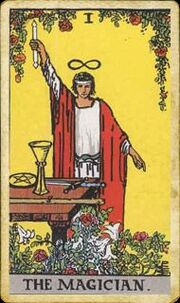 The Magician (I) is the first Major Arcana card in the Tarot decks. Finneas is the current Magician Arcana.
Master of Illusions
The Trickster
A young man wearing a red robe. Holds a wand skyward while pointing to the ground with his free hand.
On a table before him lies a pentagram, a chalice, a sword, and a cane.
A bed of roses and lilies grow at his feet, vines trailing above.
Like Strength, the Magician card has an infinity symbol.
"Don't look at this hand, look at that one."
Illusion creation and casting
Hallucikinesis
Reality distortion
Conjurations
Invocations
Unique CharacteristicsEdit
Speaks a mysterious magician language when he conjures illusions.