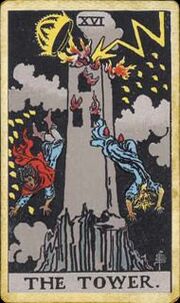 The Tower (XVI) is the sixteenth Major Arcana card in the Tarot decks. Patrick Joules is the current Tower Arcana.
Lord of Lightning
Master of Electricity
Lightning striking a turret, sending people falling.
"Eyes to the skies, lads, I strike from above!"
Can generate and control electrical energy
Can electrify his skin and create javelins that transform into lightning bolts
Unique CharacteristicsEdit
Ad blocker interference detected!
Wikia is a free-to-use site that makes money from advertising. We have a modified experience for viewers using ad blockers

Wikia is not accessible if you've made further modifications. Remove the custom ad blocker rule(s) and the page will load as expected.