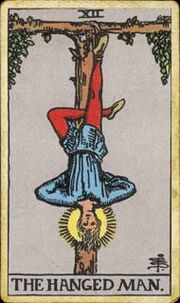 The Hanged Man (XII) is the twelfth Major Arcana card in the Tarot decks. Paul is the current Hanged Man Arcana.
A man dangling upside down from a rope looped around his ankle and tied to a tree limb. Has a jagged burst of yellow light haloed around his head.
Because his card is reversed he appears nimbly on his toes.
"Never trust me, I am the traitor."
Card reversal
Invulnerable to weapons
Concealment
One way telepathy
Emotion and trust manipulation
Sphere of influence
Unique CharacteristicsEdit