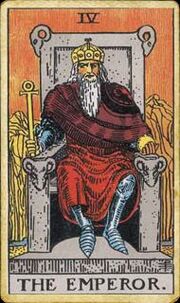 The Emperor (IV) is the fourth Major Arcana card in the Tarot decks. Richter is the current Emperor Arcana.
A stony-eyed ruler, surrounded by flames and slabs of granite, holding a scepter with an engraved ankh.
Pyromancy, magma generation, terramancy
Can create and control fire, mountains, volcanoes, and earthquakes
Unique CharacteristicsEdit
Lava flows from his bleeding hands, and his eyes glow like fire.
Ad blocker interference detected!
Wikia is a free-to-use site that makes money from advertising. We have a modified experience for viewers using ad blockers

Wikia is not accessible if you've made further modifications. Remove the custom ad blocker rule(s) and the page will load as expected.